Rhodium Plating
Rhodium Plating Service
Make your jewelry shine like new with our professional rhodium plating services! At Elite Luxury Gold Plating, we specialise in providing high-quality rhodium plating for all types of jewelry, from rings and bracelets to necklaces and earrings. Our skilled technicians use only the finest materials and techniques to ensure a flawless, long-lasting finish that will make your jewelry look better than ever.
Why choose rhodium plating? Rhodium is a rare and durable metal that is known for its brilliant, mirror-like shine. By adding a thin layer of rhodium to your jewelry, you can restore its original luster and protect it from wear and tear. Rhodium plating is also a great way to update the look of older jewelry or transform a piece that no longer suits your style.
At Elite Luxury Gold Plating, we take pride in offering exceptional customer service and competitive pricing. We work closely with each of our clients to ensure that their jewelry is treated with the utmost care and attention to detail. Whether you're looking to restore a cherished family heirloom or give new life to a piece that's been sitting in your jewelry box, we're here to help.
So why wait? Contact us today to learn more about our rhodium plating services and how we can help you make your jewelry look as good as new!
Simply complete the form below and we will respond promptly with a bespoke quotation for the work you require. To assist us in providing an accurate quotation, please include as much detail as possible and upload a photo (or photos) of your item.
If you prefer, you can send us an email to: sales@eliteluxurygoldplating.com or contact us via Facebook messenger.
Contact Us by phone/WhattsApp on: 07875 584220
Electroplating Services
Crystallisation Services
Polishing Services
Engraving Services
Help to "Create a Gift"
Jewellery Cleaning Service
We can customise many items in rhodium plating, from watch cases to a brand new iPhone. Please contact us if you have an item you would like plating.
As an alternative to our rhodium plating service, why not try our Crystallisation Service. Have a pair of Beats headphones or Christian Louboutin shoes embellished in superb sparkling Crystals.
If you need Rhodium plating for your product, follow the easy steps outlined below
Complete the form below and provide us with details and photos of your item.

We will then provide you with a quotation.

If you wish to proceed then just send the product to us via Recorded & Signed for post.

When the product has been customised we will send you an invoice for payment.

Payment has to be cleared in our account prior to release of goods.

Product will be shipped to you by recorded and signed for post.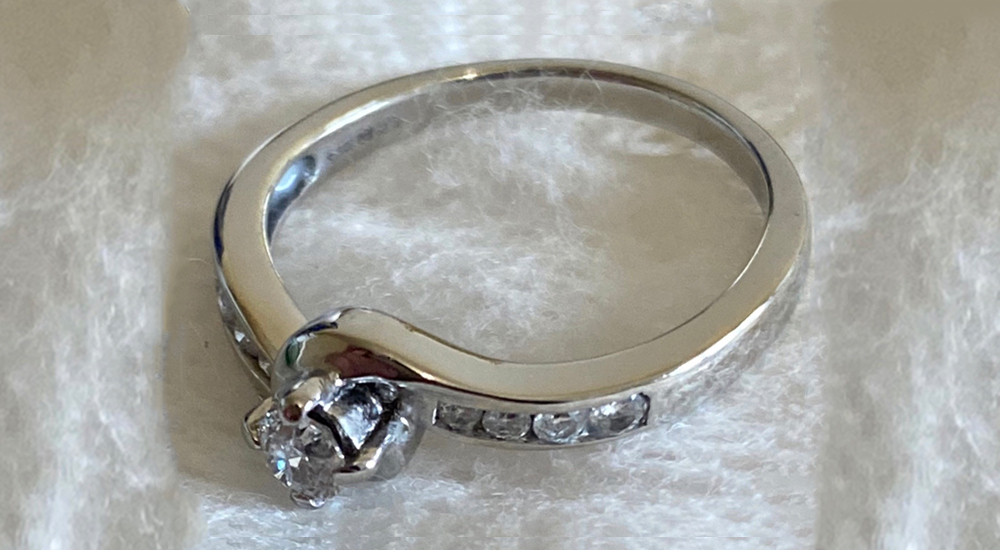 Slide the cursor to see before and after Rhodium plating
Please note: Rhodium plating cannot be used to cover scratches as any damage will still be visible after plating. In many cases, due to the high sheen finish of our plating service, scratches may become even more noticeable.
Listed below is a list of examples of items that can be plated or re-plated
| | |
| --- | --- |
| Jewellery, (Rings, Necklaces, Chains, Pendants, Earrings etc) | iPhone (Silver with White Back Model Only) |
| 24k,18k Gold or Rose Gold plated watches and straps | Bathroom Taps And Fixtures |
| Car Badges/Accessories | Apple Watch (Stainless Steel Version) |
| Samsung Galaxy Watch 46mm (Stainless Steel) | Yacht/Boat Accessories |
| Ornaments | Cutlery |
| Antiques | Coins |
| Zippo Lighters | Golf Club Shafts |
| Coffee Machines | Tattoo Machines (Stainless Steel) |
| Motorbike Accessories | |
We can plate any metals with the exception of aluminium (for the time being). Visit our Facebook page for the latest news and offers.
Request A Quotation
Please complete the form below to obtain a quotation for the item you would like customised and we will get back to you shortly.